SUZHOU, China (March 1, 2021) – Nissan has signed a Memorandum of Understanding (MoU) with the Suzhou High-Speed Rail New Town to support Suzhou City's intelligent transport initiative. As part of the agreement, Nissan will offer its global experience and expertise to accelerate mobility initiatives of Suzhou city.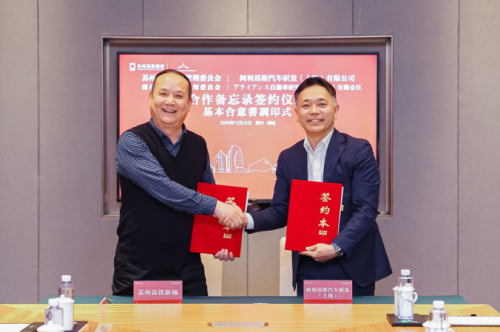 Shengyi DING, Deputy Director of Suzhou High-Speed Rail New Town Administration shook hands with Kenju Kobayashi, the alliance global director for the Alliance Innovation Lab-Shanghai (AIL-SH) after signing the MOU
Under the MoU, Nissan will offer technology support to study field testing which could accelerate the development of intelligently connected networks and Intelligent Transport.
At the same time, both parties will jointly explore R&D projects to build a future model of intelligent transport that is commercially feasible, implementable and replicable, and involves autonomous vehicle testing for future commercial services.
"Nissan has a long history of delivering leading-edge tech in vehicle electrification, autonomous driving, and other innovative technologies which enrich people's lives," said Shohei Yamazaki, senior vice president, Nissan Motor Co. Ltd., and chairman of the Nissan China Management Committee. "We look forward to working with Suzhou city to help develop the city's transport system and contribute to the local community."
Shengyi Ding, deputy director of Suzhou High-speed Rail New Town Administration said, "During the cooperation, we will take full advantage in developing an ecosystem of industry, technology and application and provide intelligent infrastructure, a variety of application scenarios and a powerful research and development platform."
"Given such an exceptionally favorable environment and Nissan's strong technical expertise, we are sure to bring about a prospect
where high-tech vehicles made with Japanese technology run on Chinese roads, thus leading the world in intelligent transportation systems and creating a new model for China-Japan industrial cooperation," he added.
Kenju Kobayashi, the alliance global director for the Alliance Innovation Lab-Shanghai (AIL-SH), said: "With a proven track record in connectivity, autonomous driving, service and electrification (CASE) technologies and solutions, Nissan is well positioned to take a leading role to help develop intelligent transport initiatives for Suzhou and China."
Further, both parties will study the feasibility of participating in the promotion and development of an intelligently connected vehicle ecosystem. They will also consider partnering with other relevant industry players in an effort to realize the vision of a smart city.
In January 2021, Nissan announced its 2050 carbon neutral goal, aiming to electrify 100% of all-new vehicle offerings in the key markets by the early 2030s.
As a pioneer in developing zero-emission vehicles, Nissan has been working to reduce CO2 emissions and create environmental and social value through the commercialization of electrification and autonomous driving technologies.
To learn more about the Nissan NEXT transformation plan, visit https://global.nissannews.com/en/releases/plan.
For more information about Nissan's products, services and commitment to sustainable mobility, visit
nissan-global.com. You can also follow us on Facebook, Instagram, Twitter and LinkedIn and see all our latest videos on YouTube. (Please change to CHINA portals and social media platforms)