SHANGHAI (Nov. 5, 2021) – Nissan China today joined the 4th China International Import Expo (CIIE), which will run from November 5 to 10. During the exhibition, it will showcase cutting-edge technologies in the fields of intelligent power, drive and integration, as well as its 88 years of heritage in driving technology and product innovation that has enriched lives of generations of Chinese since the 1970's.
Nissan China joins the 4th China International Import Expo (CIIE)
"Nissan is proud to witness and participate in the robust growth of the Chinese economy, driven by openness and reform," said Hideki Kimata, president of Nissan (China) Investment Co., Ltd. "We look forward to showcasing our commitment to sustainable growth in the country through automotive advances, particularly in electrification."
"With nearly nine decades of technology innovation, we have formed a clear vision, strategy and roadmap for enriching people's lives in China." He said this is the third time that Nissan has participated in CIIE, displaying advanced technology innovations for the Chinese market.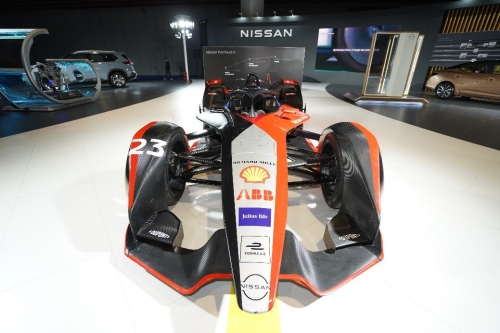 Nissan shows Formula E racer at CIIE
Leading the way at 2021 CIIE is the new Nissan e-POWER Sylphy, the first vehicle to offer the award-winning e-POWER technology for customers in China. With e-POWER, drivers enjoy the benefits of a 100% electric motor-driven system and a gasoline engine available as needed to charge the battery pack. By 2025, Nissan is scheduled to release six e-POWER vehicles for China, part of the Nissan Intelligent Mobility vision to change how vehicles are powered, driven, and integrated into society.
As a pioneer in the electric vehicle segment, Nissan will display several technologies and products at the exhibition, including the company's first electric vehicle built in China, Sylphy Zero Emission. Built on the same platform as the world's first mass-market EV, Nissan LEAF, Sylphy Zero Emission is the first strategic model for implementation of Nissan Intelligent Mobility in China.
First vehicle to offer the award-winning e-POWER technology in China
In addition to explaining Nissan's electrification strategy for future mobility, the exhibit will outline the company's global carbon neutrality goals, show the evolution and trajectory of a more efficient internal combustion engine, and highlight Intelligent Drive, Intelligent Integration, and Intelligent Mobility.
Akihisa Suzuki, executive vice president of Nissan (China) Investment Co., Ltd. said: "Nissan aims to achieve carbon neutrality across its operations and the lifecycle of its products by 20501. On the path to reaching carbon neutrality, by the early 2030s, every new Nissan vehicle in key markets will be electrified."
The all-new X-Trali
He said Nissan's commitment to China is manifest in numerous ways beyond wheels on the road. For example, the Nissan Dream Classroom, a partnership with UNESCO, has delivered educational programs to 1 million elementary school students in more than 750 schools in 15 Chinese provinces by the end of 2020. In the Nissan Dream Classroom, students learn about automotive design, manufacturing, technology and the environment.
Children joins Nissan Dream Classroom
Nissan has participated for 15 years in the China Road Traffic Safety Forum, as part of its commitment to advancing traffic safety in China and achieving "zero fatalities" in the country.
"Having established roots in China over 40 years, Nissan continues to adhere to its 'Investing in China for China and the World' strategy,'" said Hideki Kimata. "In the future, we will develop China as a core market, provide more connectivity, vehicle intelligence, electrification technologies, products and services, to help drive China's sustainability development."
1. "Lifecycle" includes raw material extraction, manufacturing, use, and the recycling or reuse of end-of-life vehicles.
To learn more about the Nissan NEXT transformation plan, visit https://global.nissannews.com/en/releases/plan.
For more information about Nissan's products, services and commitment to sustainable mobility, visit
nissan-global.com. You can also follow us on Facebook, Instagram, Twitter and LinkedIn and see all our latest videos on YouTube. (Please change to CHINA portals and social media platforms)