BEIJING (June 27, 2018) –Zhengzhou Nissan's tough Nissan Navara pickup has won one stage of the most important extreme motorsports events in China, the 2018 Taklimakan Rally.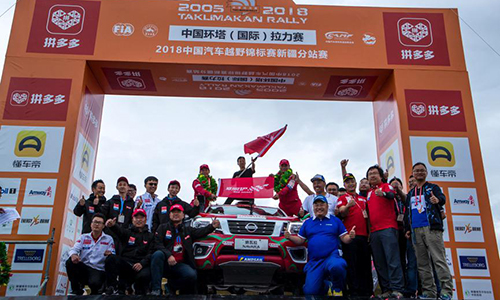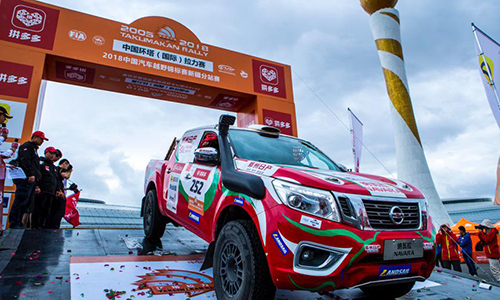 Three Navara began the eight-stage rally in Urumqi, Xinjiang, in China's far northwest. The pickups followed the old Silk Road for 2,769 km, including the blazing hot and technically- challenging Gobi Desert. Of 90 automobiles taking part in Asia's largest annual off-road endurance rally, only 59 could complete the entire challenge.
Zhengzhou Nissan drivers Ho-Ututunasheng and En Wang, competing in the 215-km SS1 stage from Turpan to Shanshan, drove their Navara to victory in the T2.1 category, while Zhengzhou Nissan also clenched four of the eight "Golden Helmet" prizes.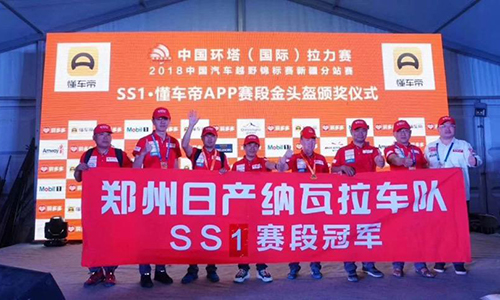 Navara's power, reliable performance and durable chassis played a crucial role in the truck's success. Navara not only topped vehicles in the mass-produced group, but also put up an unforgettable extreme performance against million-dollar specialty endurance vehicles.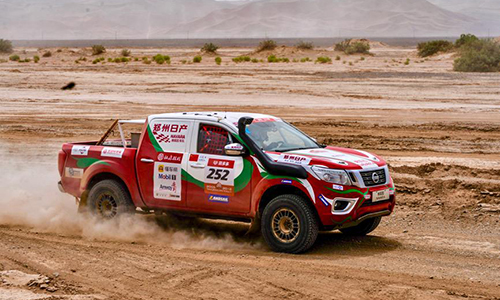 Zhengzhou Nissan was the only team in the mass-production vehicle category to not receive a 100-hour penalty for failing to complete race segments within stipulated times. The Navara, with victory on one of the world's toughest testing grounds, is a key vehicle in the Chinese product lineup, with the rigorous real-world test at Taklimakan translating into authentic capability for consumers.
About Nissan Motor Co., Ltd.

Nissan is a global full-line vehicle manufacturer that sells more than 60 models under the Nissan, INFINITI and Datsun brands. In fiscal year 2017, the company sold 5.77 million vehicles globally, generating revenue of 11.9 trillion yen. On April 1, 2017, the company embarked on Nissan M.O.V.E. to 2022, a six-year plan targeting a 30% increase in annualized revenues to 16.5 trillion yen by the end of fiscal 2022, along with cumulative free cash flow of 2.5 trillion yen. As part of Nissan M.O.V.E. to 2022, the company plans to extend its leadership in electric vehicles, symbolized by the world's best-selling all-electric vehicle in history, the Nissan LEAF. Nissan's global headquarters in Yokohama, Japan, manages operations in six regions: Asia & Oceania; Africa, the Middle East & India; China; Europe; Latin America; and North America. Nissan has partnered with French manufacturer Renault since 1999 and acquired a 34% stake in Mitsubishi Motors in 2016. Renault-Nissan-Mitsubishi is today the world's largest automotive partnership, with combined sales of more than 10.6 million vehicles in calendar year 2017.
For more information about our products, services and commitment to sustainable mobility, visit nissan-global.com. You can also follow us on Facebook, Instagram, Twitter and LinkedIn and see all our latest videos on YouTube.
About Nissan in China
Nissan entered the Chinese market in 1973, and the brand has been developing rapidly in China since the 1990s. As the wholly owned subsidiary of Nissan Motor Co., Ltd. based in Beijing, Nissan (China) Investment Co., Ltd. manages Nissan's investment in China together with the parent company. Dongfeng Motor Co., Ltd. is a joint venture between Nissan and Dongfeng Motor Corporation. Under it, Dongfeng Nissan Passenger Vehicle Company, Dongfeng Infiniti Motor Co., Ltd. and Dongfeng Venucia Motor Company mainly produce passenger vehicles, while Zhengzhou Nissan Automobile Co., Ltd. specializes in light commercial vehicles.
In calendar year 2017, Nissan sold more than 1.5 million vehicles in China, including imported, passenger and light commercial vehicles.