GUANGZHOU, China (Nov. 17, 2017) – The new, zero-emission Nissan LEAF will make its China debut today as Nissan shows the way to intelligent driving and mobility with a strong product lineup and a new concept vehicle.
The 100% electric LEAF will be on display at the 15th China (Guangzhou) International Automobile Exhibition. Nissan will also exhibit the Vmotion 2.0 concept car, providing a glimpse of the future of sedans.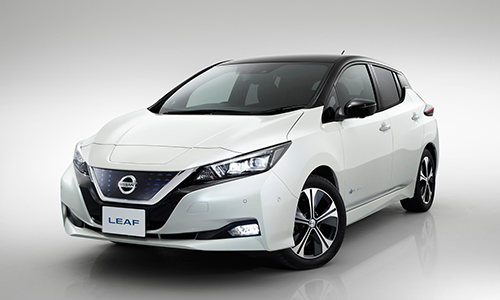 The all-new, zero-emission Nissan LEAF will make its China debut at the Guangzhou auto show.
Venucia, the local brand of Dongfeng Venucia Motor Co. within Nissan's joint venture in China, will also bring its all-new Venucia T70 to the show. The model offers another choice for customers looking for a high-quality, intelligent, connected vehicle.
"With the strong and steady growth of Nissan's joint venture companies in China,
Nissan China has achieved accumulative growth in the past 10 months, and we are set to increase our annual sales target to 1.5 million vehicles," said Jun Seki, president of Dongfeng Motor Co., Ltd., senior vice president of Nissan and chairman of the Nissan China Management Committee. "We will continue offering innovative quality products for our Chinese customers who want an exciting, safe and intelligent driving experience."
New Nissan LEAF
Following its recent world premiere in Japan, the new Nissan LEAF makes its debut in China as the new standard in the growing market for mainstream electric cars. Withgreater range, advanced technologies and a dynamic new design, the LEAF offers customers more driving excitement, connectivity and performance.
The new LEAF comes with Nissan's ProPILOT autonomous driving technology,ProPILOT Park and e-Pedal. The car is the icon of Nissan Intelligent Mobility, the company's approach to changing how vehicles are powered, driven and integrated into society.
Nissan Vmotion 2.0
Unveiled earlier this year, the Vmotion 2.0 concept car demonstrates Nissan's future sedan design direction and highlights Nissan Intelligent Driving, one of the three pillars of Nissan Intelligent Mobility.
The Nissan Vmotion 2.0 concept car will be on display at the 2017 Guangzhou auto show.
The Vmotion 2.0 combines a high sense of style, emotional design, space, comfort and technology to deliver a seamless mobility experience.
The concept car showcases a future vision for ProPILOT functionality that allows autonomous driving on urban roads for a more flexible driving experience.
New Venucia T70
The new T70, from local Chinese brand Venucia, makes its debut at Auto Guangzhou 2017. The model is part of the brand's game plan to strengthen its competitiveness and enhance its appeal to Chinese customers.
The car has an entirely new design on both the inside and the outside. The new look was inspired by nature and images of drifting sand. On the inside, the T70 creates a warm and comforting ambience for the driver and passengers alike, with detailed finishes including the delicately stitched leather bordering the dashboard.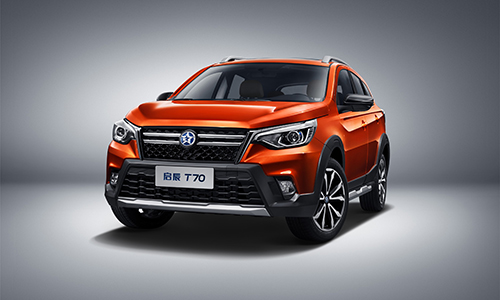 The new Venucia T70 will premiere at the 2017 Guangzhou auto show.
The new Venucia T70 comes with a connected system, "AI Voice Assistant." The system offers the driver assistance with 200 actions, such as making a call or turning on the air conditioning, solely through voice commands. In addition, the navigation system, co-designed by Dongfeng Venucia and Autonavi, provides 24-hour guidance through blind zones.
With its lineup of advanced new models and concept vehicles, Nissan continues to deliver on its commitment to Nissan Intelligent Mobility – bringing the best vehicles to China, one of Nissan's most important markets globally.
About Nissan Motor Co., Ltd.

Nissan is a global full-line vehicle manufacturer that sells more than 60 models under the Nissan, INFINITI and Datsun brands. In fiscal year 2016, the company sold 5.63 million vehicles globally, generating revenue of 11.72 trillion yen. Nissan engineers, manufactures and markets the world's best-selling all-electric vehicle in history, the Nissan LEAF. Nissan's global headquarters in Yokohama, Japan, manages operations in six regions: Asia & Oceania; Africa, Middle East & India; China; Europe; Latin America; and North America. Nissan has a global workforce of 247,500 and has been partnered with French manufacturer Renault since 1999. In 2016, Nissan acquired a 34% stake in Mitsubishi Motors. Renault-Nissan-Mitsubishi is today the world's largest automotive partnership, with combined annual sales of almost 10 million vehicles.
For more information about our products, services and commitment to sustainable mobility, visit nissan-global.com. You can also follow us on Facebook, Instagram, Twitter and LinkedIn and see all our latest videos on YouTube.
About Nissan in China

Nissan entered the Chinese market in 1973, and the brand has been developing rapidly in China since the 1990s. As the wholly owned subsidiary of Nissan Motor Co., Ltd. based in Beijing, Nissan (China) Investment Co., Ltd. manages Nissan's investment in China together with the parent company. Dongfeng Motor Co., Ltd. is a joint venture between Nissan and Dongfeng Motor Corporation. Under it, Dongfeng Nissan Passenger Vehicle Company, Dongfeng Infiniti Motor Co., Ltd. and Dongfeng Venucia Motor Company mainly produce passenger vehicles, while Zhengzhou Nissan Automobile Co., Ltd. specializes in light commercial vehicles.
In calendar year 2016, Nissan sold more than 1.3 million vehicles in China, including imported, passenger and light commercial vehicles.
About Dongfeng Nissan Passenger Vehicle Company (Dongfeng Nissan)
Dongfeng Nissan Passenger Vehicle Company (Dongfeng Nissan) is a business unit of DFL, Nissan's joint venture with Dongfeng Motor Group Co., Ltd. DFL-PV is engaged in research and development operations, manufacturing and distribution of passenger vehicles.
About Dongfeng Venucia Motor Company (DFV)
Dongfeng Venucia Motor Company (DFV) was established in 2010 to meet the increasingly diversified demand of Chinese consumers. Dongfeng Venucia has already launched eight product series, including the D60, M50V, D50, R50, R30, T70, T90 and e30. In 2016, Dongfeng Venucia sold more than 116,600 vehicles and successfully achieved its annual sales target.