SHANGHAI (April 19, 2017) – Nissan will show a series of new models with innovative technologies and design today at Auto Shanghai 2017, bringing Chinese customers a range of different vehicles to meet their diverse needs.
The Nissan Kicks crossover, the Nissan Navara pickup and the Nissan Vmotion 2.0 concept car will all make their China debut at the 17th Shanghai International Automobile Industry Exhibition. The newly introduced Nissan X-Trail SUV will also be on display.
The models add to the line-up of vehicles bringing Nissan Intelligent Mobility to customers in China.Nissan Intelligent Mobility is Nissan's direction for developing and offering autonomous drive,electric vehicle and connected car technologies while making driving more enjoyable. Visitors to Auto Shanghai 2017 can experience the benefits of these innovations at the Nissan Intelligent Mobility Experience Corner.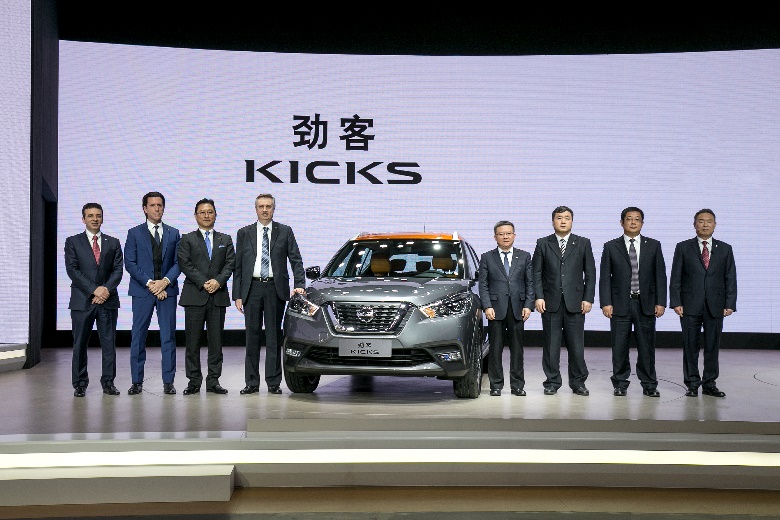 Executives at Auto Shanghai 2017
"Nissan is proud to participate in the world-class Shanghai Motor Show and showcase our Vmotion 2.0 design concept and three new models," said Daniele Schillaci, Nissan's executive vice president for global marketing and sales, zero-emission vehicles and the battery business, and chairman of the
Management Committee for Japan, Asia and Oceania."We are confident that the new Nissan X-Trail, the Nissan Navara and the Nissan Kicks will meet the diverse needs of our customers in China and help make driving safer and more exciting for them."
Nissan Kicks
The debut of the Kicks, a new benchmark for entry-level SUVs, further strengthens Nissan's SUV line-up in China. The Kicks revolutionizes the compact crossover segment with its fresh, youthful design and spacious, comfortable interior. It features characteristics important to the "Dare to Dream" generation born in China after 1990, including their focus on modernism and a passion for well-designed products.First introduced in Brazil less than a year ago, the Kicks has been recognized as an innovative crossover,winning several awards in Latin America.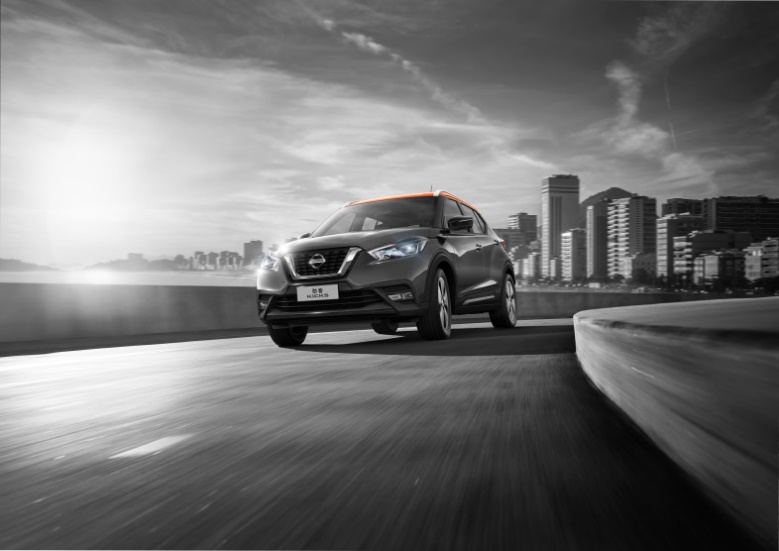 The Nissan Kicks
New Nissan X-Trail
The X-Trail is one of Nissan's best-selling SUVs in China. The new X-Trail's refreshed exterior reflects a high sense of style. The interior features a new D-shaped steering wheel and optimized space,including a flexible 5-seat/7-seat configuration. This popular SUV delivers an outstanding, sporty drive.The new X-trail debuted in China on April 6 and is scheduled to be sold in about 150 markets.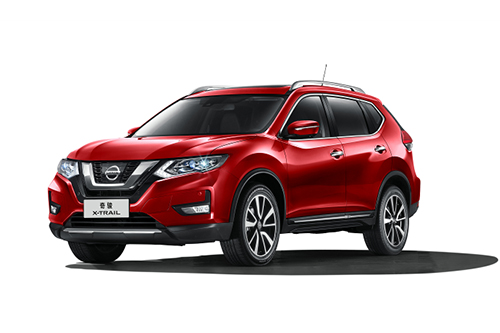 The New Nissan X-Trail
Nissan Navara
The Navara, Nissan's first SUV-grade pickup to premiere in China, meets consumers' demand for smart, tough, high-performance pickups. It features Nissan's signature "V-motion" grille and futuristic headlights. The cabin's spacious interior makes for a comfortable ride.The Navara's 7-speed automatic transmission, the first of its kind in China, delivers top performance and power. The model will be manufactured for the Chinese market at Nissan's Chinese joint venture company, Zhengzhou Nissan Automobile Co., Ltd.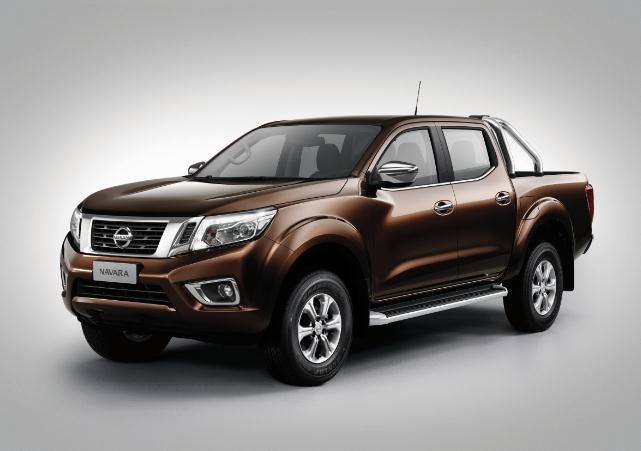 The Nissan Navara
Nissan Vmotion 2.0 concept
The Vmotion 2.0 concept car demonstrates the future direction of Nissan Intelligent Mobility technology and sedan design. A high sense of style, emotional design, space, supreme comfort and technology combine to create a seamless mobility experience.The Vmotion 2.0's ProPILOT technology is envisioned to ultimately let the car drive in autonomous mode on highways, in heavy traffic, and on city streets.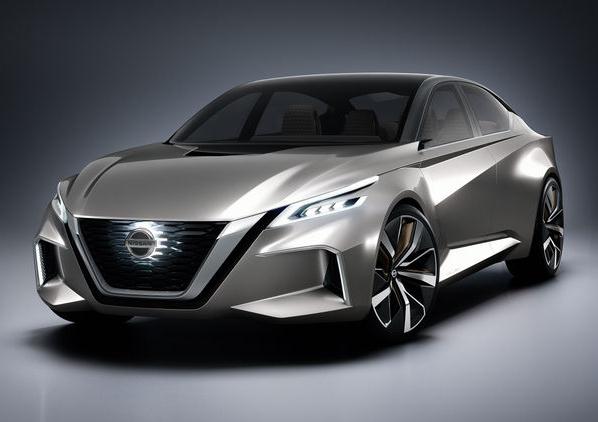 The Nissan Vmotion 2.0 concept car
About Nissan Motor Co., Ltd.
Nissan is a global full-line vehicle manufacturer that sells more than 60 models under the Nissan, Infiniti and Datsun brands. In fiscal year 2015, the company sold more than 5.4 million vehicles globally, generating revenue of 12.2 trillion yen. Nissan engineers, manufactures and markets the world's best-selling all-electric vehicle in history, the Nissan Leaf. Nissan's global headquarters in Yokohama, Japan, manages operations in six regions: ASEAN & Oceania; Africa, Middle East & India; China; Europe; Latin America and North America.
Nissan has been partnered with French manufacturer Renault since 1999 and Mitsubishi Motors since 2016 under the Renault-Nissan Alliance.
For more information about our products, services and commitment to sustainable mobility, visit our website at http://www.nissan-global.com/EN/. You can also follow @NissanMotor on Twitter.
About Nissan in China
Nissan entered the Chinese market in 1973, and the brand has been developing rapidly in China since the 1990s. As the wholly owned subsidiary of Nissan Motor Co., Ltd. based in Beijing, Nissan (China) Investment Co., Ltd. manages Nissan's investment in China together with the parent company. Dongfeng Motor Co., Ltd.is a joint-venture between Nissan and Dongfeng Motor Corporation. Under it, Dongfeng Nissan Passenger Vehicle Company, Dongfeng Infiniti Motor Co., Ltd. and Dongfeng Venucia Motor Company mainly produce passenger vehicles, while Zhengzhou Nissan Automobile Co., Ltd. specializes in light commercial vehicles.
In calendar year 2016, Nissan sold more than 1.3 million vehicles in China, including imported, passenger and light commercial vehicles.
About Dongfeng Nissan Passenger Vehicle Company (Dongfeng Nissan)
Dongfeng Nissan Passenger Vehicle Company (Dongfeng Nissan) is a business unit of DFL, Nissan's joint venture with Dongfeng Motor Group Co., Ltd. Dongfeng Nissan is engaged in research and development,manufacturing and distribution of passenger vehicles in China.
About Zhengzhou Nissan Automobile Co., Ltd. (ZNA)
Founded in 1993, Zhengzhou Nissan Automobile Co., Ltd. is one of the largest manufacturers of light commercial vehicles (LCVs) in China. Through the Nissan and Dongfeng brands, ZNA markets five series and eight models.