Refreshed exterior features distinctively styled "V-motion" grille

Intelligent technologies redefine expectations and embody Nissan Intelligent Mobility
CHONGQING, China (April 6, 2017) – Nissan is poised to capture a larger share of the burgeoning SUV segment in China as it unveils the new Nissan X-Trail today in Chongqing, the nation's western hub.
The new X-Trail is a classic model upgraded and aligned to the needs of young families, with more stylish design, more comfortable space, improved driving performance and new advanced safety technologies. It will go on sale in China at a starting price of RMB 188,800.
Communicating a high sense of style, the new X-Trail's exterior features an enlarged Nissan "V-motion" grille, updated headlights with a"boomerang" LED signature, and new 19-inch aluminum alloy wheels.Its refined interior includes a new D-shape steering wheel, giving it a robust and premium feel.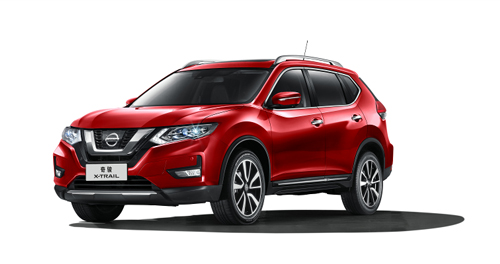 The new Nissan X-Trail
"We adapted Nissan's latest design direction to the new X-Trail to elevate its dynamic presence as the evidence of evolution," said Mamoru Aoki, executive design director at Nissan Motor Co., Ltd.
Expanding its safety technology features to give drivers more confidence, the new X-Trail will also be available with Intelligent Emergency Braking,Emergency Assist for Pedal Misapplication and Cross Traffic Alert. A number of advanced safety technologies related to Nissan Intelligent Mobility are already available for the current X-Trail, such as Blind Spot Warning, Lane Departure Warning and Intelligent Around View Monitor.
The new X-Trail also integrates a host of other intelligent features. Its Intelligent Cruise Control maintains a set distance between the X-Trail and vehicles in front, even applying the brakes to help maintain that distance. Its smartphone-connected system features a new user interface that makes it easy to make and receive calls using a steering wheel button and enables the driver to operate a smartphone by touching a 7-inch screen.
"With its strengthened qualities and advanced technologies, the new X-Trail can surely satisfy the growing individualized and diversified requirements of Chinese consumers. And it is the ultimate partner to help our customers bring forth the exciting shifts of their moving lives." said Airton Cousseau,managing director of Dongfeng Nissan Passenger Vehicle Co.
The current X-Trail has broken sales records for three straight years since being introduced in China in 2014. It has won a reputation among Chinese customers for stylish design and superior driving performance in both cities and suburbs. More than 180,000 X-Trails were sold in China last year, making it the world's largest market for the model after the U.S., where it is known as the Nissan Rogue.
About Nissan Motor Co., Ltd.
Nissan is a global full-line vehicle manufacturer that sells more than 60 models under the Nissan, Infiniti and Datsun brands. In fiscal year 2015, the company sold more than 5.4 million vehicles globally, generating revenue of 12.2 trillion yen. Nissan engineers, manufactures and markets the world's best-selling all-electric vehicle in history, the Nissan Leaf. Nissan's global headquarters in Yokohama, Japan, manages operations in six regions: ASEAN & Oceania; Africa, Middle East & India; China; Europe; Latin America and North America.Nissan has been partnered with French manufacturer Renault since 1999 and Mitsubishi Motors since 2016 under the Renault-Nissan Alliance.
For more information on our products, services and commitment to sustainable mobility, visit our website at
http://www.nissan-global.com/EN/. You can also follow @NissanMotor on Twitter.
About Nissan in China
Nissan entered the Chinese market in 1973, and the brand has been developing rapidly in China since the 1990s. As the wholly owned subsidiary of Nissan Motor Co., Ltd. based in Beijing, Nissan (China) Investment Co., Ltd. manages Nissan's investment in China together with the parent company. Dongfeng Motor Co., Ltd.is a joint-venture between Nissan and Dongfeng Motor Corporation. Under it, Dongfeng Nissan Passenger Vehicle Company, Dongfeng Infiniti Motor Co., Ltd. and Dongfeng Venucia Motor Company mainly produce passenger vehicles, while Zhengzhou Nissan Automobile Co., Ltd. specializes in light commercial vehicles.
In calendar year 2016, Nissan sold more than 1.3 million vehicles in China, including imported, passenger andlight commercial vehicles.
About Dongfeng Nissan Passenger Vehicle Company (Dongfeng Nissan)
Dongfeng Nissan Passenger Vehicle Company (Dongfeng Nissan) is a business unit of DFL, Nissan's joint venture with Dongfeng Motor Group Co., Ltd. Dongfeng Nissan is engaged in research and development,manufacturing and distribution of passenger vehicles in China.