BEIJING (March 29, 2017) – Nissan is bringing ingenuity to vehicles at the coming Auto Shanghai 2017, as three new models will make their China debut on center stage.
Meeting the diverse needs of Chinese consumers, the new vehicles will range from the Nissan Vmotion 2.0 concept model to the new-generation Nissan Navara pickup and one additional premiere model.
Nissan China, together with its Chinese joint venture companies Dongfeng Nissan Passenger Vehicle Co.and Zhengzhou Nissan Automobile Co., Ltd., will present a new journey toward a more intelligent driving future as part of Nissan Intelligent Mobility, featuring diversified products and technologies to achieve their vision of zero emissions and zero fatalities on the road.
Revealed earlier this year,the Vmotion 2.0 was honoredwith the 2017 EyesOn Design Award for Best Concept and the Best Innovative Use of Color, Graphics and Materials award at the 2017 North American International Auto Show. The model demonstrates Nissan's future sedan design and direction, and features technology hinting at the future of Nissan Intelligent Mobility.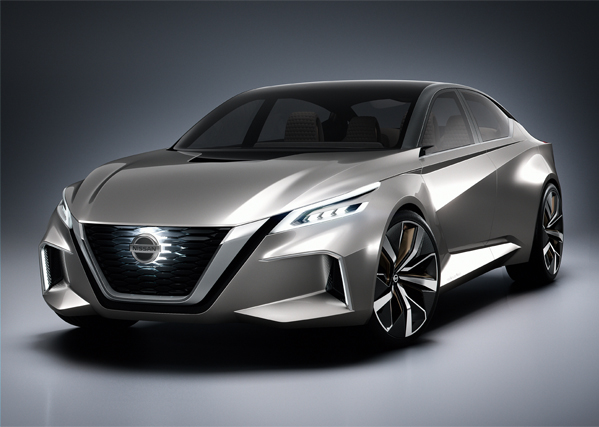 Nissan Vmotion 2.0 concept
To meet Chinese customers' demand for pickup trucks that support the needs of both individuals and small businesses, Nissan is introducing its latest high-end, SUV-class pickup, the Navara, at Auto Shanghai 2017.With its striking, fashionable design, the Navara features a dynamic and emotional expression while maintaining the high quality and stability of Nissan's pickups to meet consumers' demand for off-road driving and comfort.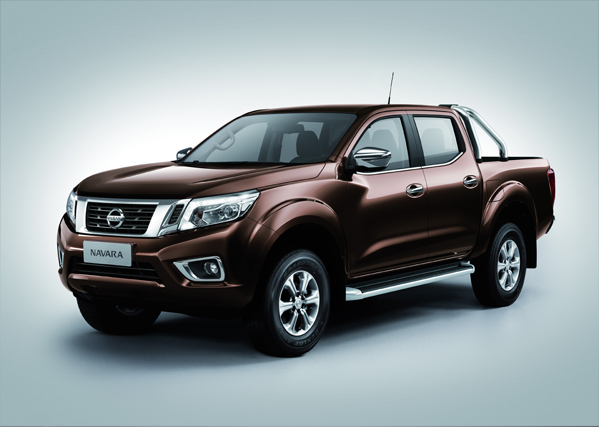 Nissan Navara
One additional new model will make its China debut at Nissan's center stage, grabbing consumers'attention and helping meet the aspirations of Chinese customers.
To help consumers learn about the future of driving, Nissan also will introduce a series of intelligent and innovative devices that showcase the company's latest advanced technologies.
Nissan's press conference is scheduled for 9:50 a.m. on Wednesday, April 19. Please join us at the Nissan booth at the National (Shanghai) Center for Exhibition and Convention to experience the latest products and technologies.
About Nissan Motor Co., Ltd.
Nissan is a global full-line vehicle manufacturer that sells more than 60 models under the Nissan, Infiniti and Datsun brands. In fiscal year 2015, the company sold more than 5.4 million vehicles globally, generating revenue of 12.2 trillion yen. Nissan engineers, manufactures and markets the world's best-selling all-electric vehicle in history, the Nissan LEAF. Nissan's global headquarters in Yokohama, Japan, manages operations in six regions: ASEAN & Oceania; Africa, Middle East & India; China; Europe; Latin America and North America.
Nissan has been partnered with French manufacturer Renault since 1999 and Mitsubishi Motors since 2016 under the Renault-Nissan Alliance.
For more information on our products, services and commitment to sustainable mobility, visit our website at
http://www.nissan-global.com/EN/. You can also follow @NissanMotor on Twitter.
About Nissan in China
Nissan entered the Chinese market in 1973, and the brand has been developing rapidly in China since the 1990s. As the wholly owned subsidiary of Nissan Motor Co., Ltd. based in Beijing, Nissan (China) Investment Co., Ltd. manages Nissan's investment in China together with the parent company. Dongfeng Motor Co., Ltd.
is a joint venture between Nissan and Dongfeng Motor Corp. Under it, Dongfeng Nissan Passenger Vehicle Co., Dongfeng Infiniti Motor Co., Ltd. and Dongfeng Venucia Motor Co. mainly produce passenger vehicles,while Zhengzhou Nissan Automobile Co., Ltd. specializes in light commercial vehicles.
In calendar year 2016, Nissan sold more than 1.3 million vehicles in China, including imported, passenger and light commercial vehicles.
About Dongfeng Nissan Passenger Vehicle Company (Dongfeng Nissan)
Dongfeng Nissan Passenger Vehicle Co. (Dongfeng Nissan) is a business unit of DFL, Nissan's joint venture with Dongfeng Motor Group Co., Ltd. Dongfeng Nissan is engaged in research and development,manufacturing and distribution of passenger vehicles in China.
About Zhengzhou Nissan Automobile Co., Ltd. (ZNA)
Founded in 1993, Zhengzhou Nissan Automobile Co., Ltd. is one of the largest manufacturers of light commercial vehicles (LCVs) in China. Through the Nissan and Dongfeng brands, ZNA markets five series and eight models.