-Nissan's halo model, the 2017 Nissan GT-R, officially launches in China to deliver ultimate driving pleasure
-Nissan TeRRA Concept opens path for zero-emission SUV
-Pre-orders begin for Venucia "T90" sports SUV, with pricing from RMB 120,000
Guangzhou, China (November 18, 2016) – A strong line-up of Nissan products and a concept vehicle are presented at the 14th China (Guangzhou) International Automobile Exhibition to address various consumer segments in China, one of Nissan's most important markets in its global business.
Featured at Auto Guangzhou is the latest version of Nissan's halo model, the 2017 GT-R super sports car. As well, Nissan is exhibiting the TeRRA Concept, which demonstrates the company's passion for innovation and imagination. Venucia, the local brand of Dongfeng Nissan Passenger Vehicle Company ("DFL-PV"), also begins pre-orders at the show for its latest SUV, the "T90," which combines impressive design and outstanding technology features at an accessible price point.
"After achieving more than 1 million sales in 2015, Dongfeng Nissan, in 2016, is in the way for another outstanding year in China. The best year ever." said Airton Cousseau, Managing Director of DFL-PV. "Under the'Young Nissan' strategy, we have been offering innovative and exciting products and an excellent car ownership experience for our Chinese customers who are young—or young-at-heart."
2017 NISSAN GT-R
The latest generation Nissan GT-R hits the Chinese market just a few months after its New York debut.
Imported as a super sports car, the 2017 Nissan GT-R carries the most significant changes made to the model since it was introduced in 2007. It has been updated with a thoroughly refreshed exterior that communicates a high sense of style. The interior features superbly crafted materials, delivering an unparalleled degree of comfort, elegance and civility that one would rarely find in such a high-performance super sports car.
A leather wrapped 8-inch touch panel monitor features large icons on the display screen that allow the user to easily manage the audio system, navigation system, telephone controls and other infotainment. The 2017 Nissan GT-R is priced from RMB1,628,000.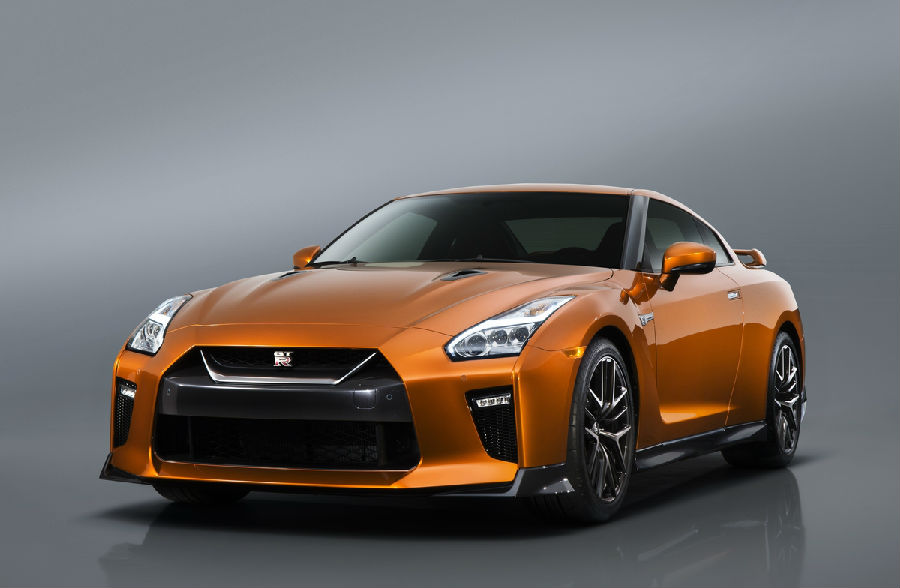 2017 Nissan GT-R Premium Edition
Nissan TeRRA Concept
The TeRRA SUV concept is the mobility solution to the search for a balance between clean energy and usability. The debut concept is Nissan's latest vision of zero-emission and sustainable mobility that is uncompromising in passenger comfort.
Powered by an innovative four-by-four electric powertrain and electric 3-motor AWD (All Wheel Drive),TeRRA has a light body, is highly aerodynamic and offers a spacious cabin.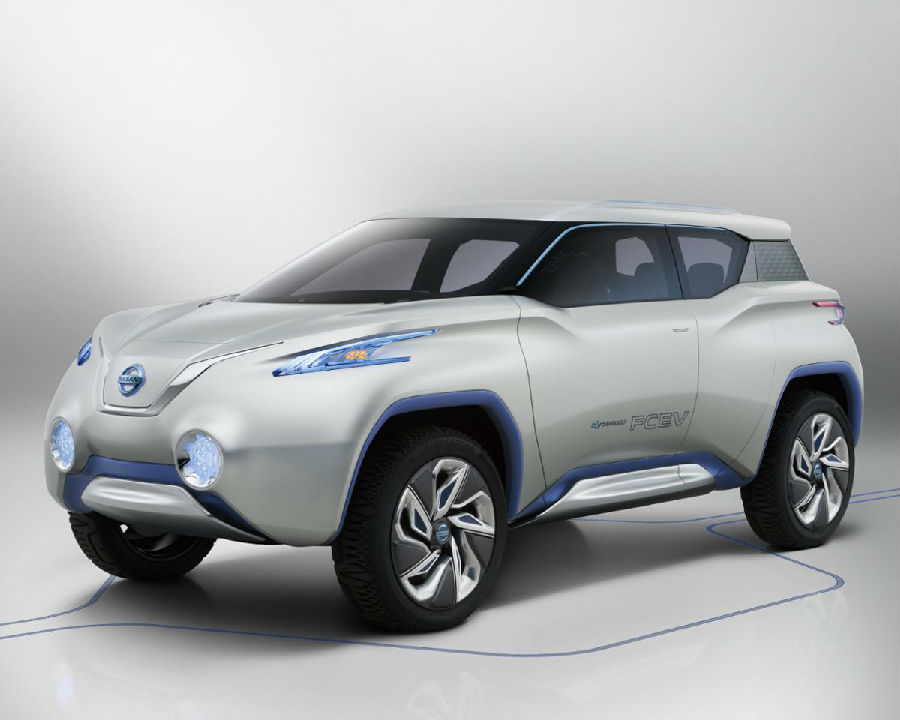 Nissan TeRRA Concept
Venucia T90
At the Venucia stand, DFL-PV announced the start of pre-orders for the anticipated T90, which is ushering a new"sporty SUV"segment among local brands. Unveiled at Auto China 2016 in Beijing, T90 has gained wide attention among Chinese consumers.
The unique"Wind Sculpture"design approach to the sporty exterior of T90 is inspired by the aesthetic contrast between wind and stone. Inside, there's no compromise with a design that delivers on spaciousness. The balanced combination inside and out is expected to meet the social and mobility preferences of young Chinese consumers for vehicles designed with personality and accommodating space for social time with friends.
T90 features the reputable XTRONIC CVT (Continuously Variable Transmission) and MR 20 engine, recognized for fuel efficiency and driving performance. The new SUV integrates many advanced technologies, including Blind Spot Warning (BSW), Around View Monitor (AVM), Electronic Stability Program (ESP), Emergency Stop Signal (ESS) and Active Trace Control (ATC) – a full-range of features to keep the driver and passengers safe.
Further, T90 is connected, with the "IT-COMMANDER" control system, CarLife smartphone integration,12.3-inch high-definition touch screen and 5-inch 3D full-color Displays, among other features. T90 is set for start-of-sale before the end of 2016.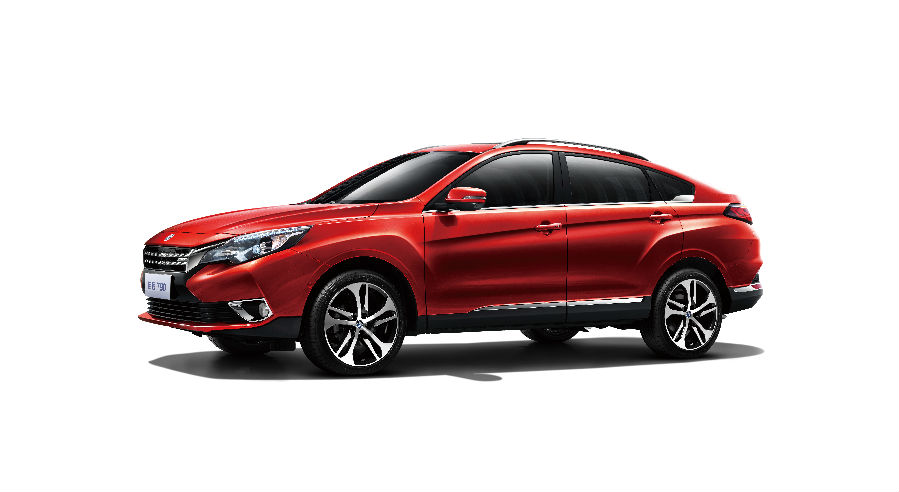 Venucia T90
About Nissan Motor Co., Ltd.
Nissan is a global full-line vehicle manufacturer that sells more than 60 models under the Nissan, Infiniti and Datsun brands. In fiscal year 2015, the company sold more than 5.4 million vehicles globally, generating revenue of 12.19 trillion yen. Nissan engineers, manufactures and markets the world's best-selling all-electric vehicle in history, the Nissan LEAF. Nissan's global headquarters in Yokohama, Japan, manages operations in six regions: ASEAN & Oceania; Africa, Middle East & India; China; Europe; Latin America and North America. Nissan has a global workforce of 247,500, and has been partnered with French manufacturer Renault under the Renault-Nissan Alliance since March 1999.
For more information on our products, services and commitment to sustainable mobility, visit our website at
http://www.nissan-global.com/EN/.
About Nissan in China
Nissan came to China in 1973, and the brand has been developing rapidly in China since the 1990s. As the wholly owned subsidiary of Nissan Motor Co., Ltd. based in Beijing, Nissan (China) Investment Co., Ltd. manages Nissan's investment in China together with the parent company. Dongfeng Motor Co., Ltd. is a joint-venture between Nissan and Dongfeng Motor Corporation. Under it, Dongfeng Nissan Passenger Vehicle Company mainly produces passenger vehicles, while Zhengzhou Nissan Automobile Co., Ltd. specializes in light commercial vehicles.
In 2015, Nissan sold 1.25 million vehicles in China, including imported, passenger and light commercial vehicles.
About Dongfeng Nissan Passenger Vehicle Company (DFL-PV)
Dongfeng Nissan Passenger Vehicle Company (DFL-PV) is a business unit of DFL, Nissan's joint venture with Dongfeng Motor Group Co., Ltd. DFL-PV is engaged in research and development operations, manufacturing and distribution of passenger vehicles.