BEIJING, China (May 29, 2016) – Nissan today launched the all-new Tiida in China through its local joint venture, Dongfeng Nissan Passenger Vehicle Company (DFL-PV). The third-generation Tiida just had its global debut at Auto China 2016 in April.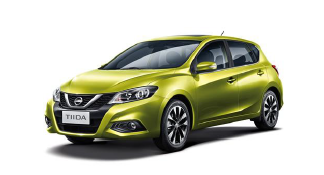 All-new Tiida
With price starting from RMB 99,900, the compact hatchback is the second new product of DFL-PV in 2016 and another embodiment of its "Young Nissan" strategy. The first Tiida was introduced in China in 2005, when it opened up a new segment – the compact hatchback – in the market.
Accumulative sales of Tiida in China to date have exceeded a million units. An example of Nissan Intelligent Mobility in action, the all-new Tiida is expected to continue building on its success and attain segment leadership in China.
Featuring dynamic styling in the V-Motion grille, unique boomerang LED headlights, a streamlined body and sporty aluminum wheels, the exterior design of the all-new Tiida speaks to the aesthetic of the young generation in China. Thanks to its best-in-class 2,700mm wheelbase, Tiida offers impressive cockpit space and class-leading 681mm rear knee room, providing comfort for both drivers and passengers.
Epitomizing Nissan's Intelligent Mobility, a vision for zero emissions and zero fatalities, Tiida is equipped with class-leading safety technology such as Forward Emergency Braking (FEB), Lane Departure Warning (LDW), Blind Spot Warning (BSW) and Cross Traffic Alert (CTA). It also delivers a segment-leading infotainment system with 7-inch audio display, and convenience through various kinds of media connection to the vehicle.
Tiida provides superior performance with class-leading 5.3L/100km fuel efficiency through its advanced 1.6L HR16DE engine, Intelligent Start and Stop system and improved Xtronic CVT.
Aided by the all-new D-Step shift logic technology, Electric Power Steering (EPS), Vehicle Dynamic Control (VDC), advanced damping system and high-performance suspension, the all-new Tiida promises pleasant and agile driving experience.
Celebrated Chinese basketball star and former NBA player Yi Jianlian, product ambassador for Tiida,attended the launch event. In line with the target segment for Tiida, contemporary young Chinese consumers, the event was designed with them in mind, and included a photo booth and social media engagement.
About Nissan Motor Co., Ltd.
Nissan is a global full-line vehicle manufacturer that sells more than 60 models under the Nissan,Infiniti and Datsun brands. In fiscal year 2015, the company sold more than 5.42 million vehicles globally, an increase of 2.0% year on year, generating revenue of 12.19 trillion yen. Nissan engineers,manufactures and markets the world's bestselling, all-electric vehicle in history, theNissan LEAF.
Nissan's global headquarters in Yokohama, Japan, manages operations in six regions:ASEAN & Oceana; Africa, Middle East & India; China; Europe; Latin America and North America.
Nissan has a global workforce of 247,500, and has been partnered with French manufacturer Renault under the Renault-Nissan Alliance since March 1999.
About Nissan in China
Nissan came to China in 1973, and the brand has developed rapidly in China since the 1990s. As the wholly owned subsidiary of Nissan Motor Co., Ltd. based in Beijing, Nissan (China) Investment Co., Ltd.
(NCIC) manages Nissan's investment in China together with the parent company. Dongfeng Motor Co., Ltd. (DFL) is a joint-venture between Nissan and Dongfeng Motor Corporation. Under it, Dongfeng Nissan Passenger Vehicle Company (DFL-PV) mainly produces passenger vehicles, while Zhengzhou Nissan Automobile Co., Ltd. (ZNA) specializes in light commercial vehicles.
About Dongfeng Nissan Passenger Vehicle Company (DFL-PV)
Dongfeng Nissan Passenger Vehicle Company (DFL-PV) is a business unit of DFL, Nissan's joint venture with Dongfeng Motor Group Co., Ltd. DFL-PV is engaged in research and development operations,manufacturing and distribution of passenger vehicles.