BEIJING, China (May 16, 2016) – Today marked the opening of Tsinghua University (Department of Automotive Engineering) - Nissan Joint Research Center for Intelligent Mobility (the Joint Research Center),a collaboration between Nissan and Tsinghua University to work on the research and development of electric vehicle and autonomous drive technologies for the Chinese market.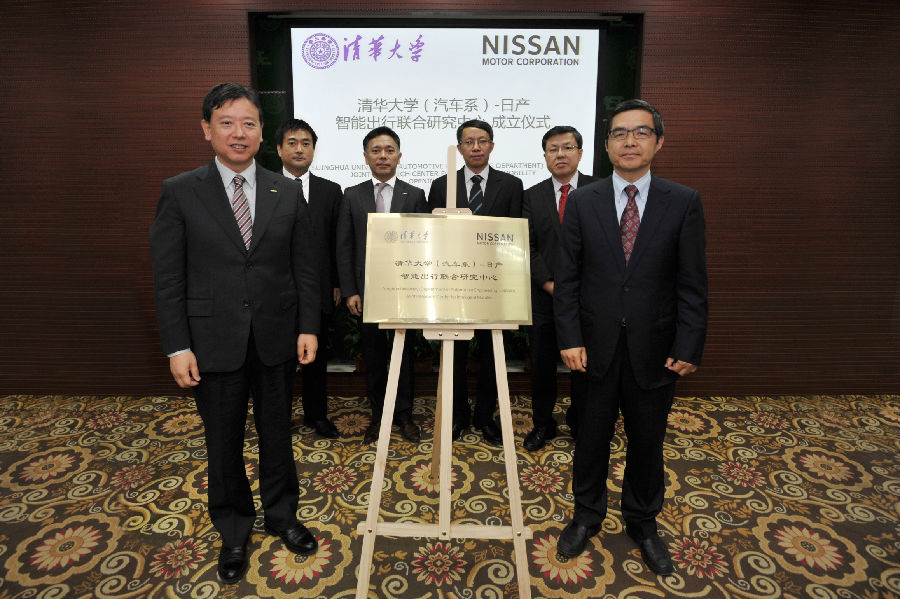 Opening of Tsinghua University (Department of Automotive Engineering) – Nissan
Joint Research Center for Intelligent Mobility
At the opening ceremony, Nissan and Tsinghua University provided the general framework for the researches of EV technologies including battery safety, autonomous driving technology and traffic systems for China in the future. To facilitate research about Chinese roads and local driving habits, the two parties will share resources to contribute to China's future mobility. At the same time, they hope that the cooperative efforts will develop more talent to drive the Chinese auto industry toward a more advanced and sophisticated future.
Among the attendees were Prof. Ouyang Minggao, Vice President of the Academic Committee of Tsinghua University; Prof. Li Keqiang, Chair of the Tsinghua University Department of Automotive Engineering; Prof.
Zhao Fuquan, Director of the Tsinghua Automotive Strategy Research Institute, and Takao Asami, Senior Vice President of Nissan Motor Co., Ltd.
"As we continue to expand our R&D capabilities throughout the world, we aggressively pursue our activities to create new values of mobility here in this new research center in Beijing," said Asami. Prof. Li saw tremendous demand and market potentials for intelligent mobility in China. He believes that the Joint Research Center will play a key role in realizing such potentials by ways of technology development.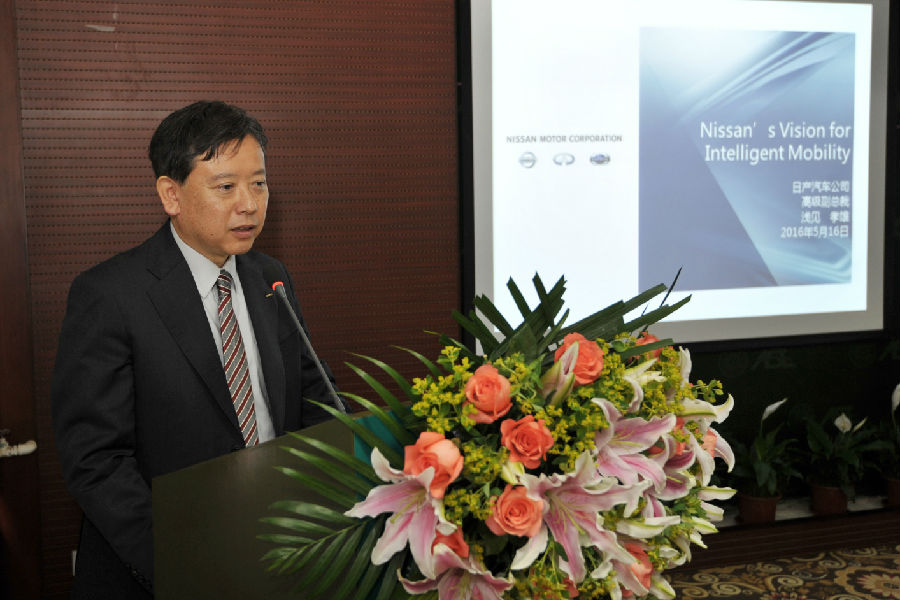 Mr. Takao Asami, Senior Vice President, Nissan Motor Co., Ltd.
Nissan and Tsinghua University have a long history of cooperation. Over the past ten years, they have maintained close cooperation in the research of core auto technologies and auto development strategies.
The new agreement will elevate their cooperation to the next level. With the new program, Nissan hopes to better implement intelligent mobility based on a careful study of Chinese road networks.
As the global demand for personal mobility continues to grow, the automotive industry must accelerate the development of solutions for numerous problems related to the environment, energy security, traffic accidents and urban traffic congestion. To address these issues, Nissan has committed to the goals of "zero emissions"and "zero fatalities" through vehicle electrification and intelligence through autonomous drive technologies, including advanced sensing technologies, dynamic driving context interpretation and vehicle maneuver planning and control. The electric vehicle is a symbol of electrification. Nissan believes that EV and autonomous drive technologies are key to realizing intelligent mobility.
As Nissan and Tsinghua University expand their cooperation, they will work to deliver a richer driving experience for Chinese consumers and to be a sustainable engine that drives innovation in automotive,social and economic sectors in China.
About Nissan Motor Co., Ltd.
Nissan is a global full-line vehicle manufacturer that sells more than 60 models under the Nissan, Infiniti and Datsun brands. In fiscal year 2014, the company sold more than 5.3 million vehicles globally, generating revenue of 11.3 trillion yen. Nissan engineers, manufactures and markets the world's bestselling, allelectric vehicle in history, the Nissan LEAF. Nissan's global headquarters in Yokohama, Japan, manages operations in six regions: ASEAN & Oceana; Africa, Middle East & India; China; Europe; Latin America and North America.
Nissan has a global workforce of 247,500, and has been partnered with French manufacturer Renault under the Renault-Nissan Alliance since March 1999.
About Nissan in China
Nissan came to China in 1973, and the brand has developed rapidly in China since the 1990s. As the wholly owned subsidiary of Nissan Motor Co., Ltd. based in Beijing, Nissan (China) Investment Co., Ltd. (NCIC) manages Nissan's investment in China together with the parent company. Dongfeng Motor Co., Ltd. (DFL) is a joint-venture between Nissan and Dongfeng Motor Corporation. Under it, Dongfeng Nissan Passenger Vehicle Company (DFL-PV) mainly produces passenger vehicles, while Zhengzhou Nissan Automobile Co., Ltd.
(ZNA) specializes in light commercial vehicles.