ZHENGZHOU, China (January 10, 2015) – Dongfeng Nissan Passenger Vehicle Company (DFL-PV) today launched "T70," the first SUV and new model in 2015 from the local Venucia brand. By bringing together outstanding features and attractive pricing, T70 is a new benchmark for SUVs in China and supports Venucia's further growth in 2015.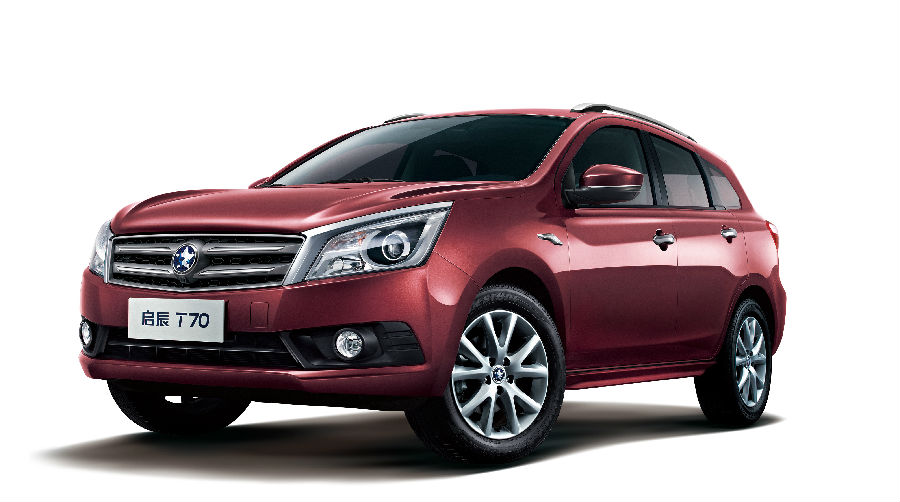 Venucia T70
Priced from RMB 89,800 to 127,800, T70 is very competitively priced for medium-size, joint-venture brand SUVs in China, without compromising technology, quality and design.
Transmission and engine combinations -T70 is equipped with the reputable XTRONIC CVT (Continuously Variable Transmission),while a manualtransmission option is also offered.Available with the Nissan HR16DE or MR20DE engine, T70 delivers best-in-class power and fuel economy.
Advanced technology - T70 comes with a full range of intelligent technology, including the display audio with smartphone link application tailored for Chinese users, AVM(Around View Monitor)and speed-sensing volume control.
Design-T70 has a commanding presence on the road with its muscular structure.Inside, the spacious cockpit and clean lines of T70 envelope the driver and passengers alike, setting a new benchmark for SUVs. DFL-PV Managing Director Susumu Uchikoshi said, "T70 is a brand-new masterpiece for the Venucia brand,and it is a significant entry in the RMB 100,000 SUV market.The best of automotive engineering and technology has been brought to bear on creating this innovative vehicle that offers a new level of motoring excitement for our customers in China."
Venucia achieved annual sales of 114,000 units in calendar year (CY) 2014, an 8.2 percent growth year on year.Building on Venucia's success in 2014, both in sales and improved brand power, T70 is expected to contribute to Venucia's ongoing success in CY 2015.
About Nissan Motor Co.
Nissan Motor Co., Ltd., Japan's second-largest automotive company, is headquartered in Yokohama, Japan,and is part of the Renault-Nissan Alliance. Operating with more than 244,500 employees globally,Nissan sold almost 5.2 million vehicles and generated revenue of 10.5 trillion yen (USD 105 billion) in fiscal 2013. Nissan delivers a comprehensive range of more than 60 models under the Nissan, Infiniti and Datsun brands. In 2010,
Nissan introduced the Nissan LEAF, and continues to lead in zero-emission mobility. The LEAF, the first mass market, pure-electric vehicle launched globally, is now the best-selling EV in history, with almost 50 percent share of the zero-emission vehicle segment.
For more information on our products, services and commitment to sustainable mobility, visit our website
athttp://www.nissan-global.com/EN/
About Dongfeng Nissan Passenger Vehicle Company (DFL-PV)
Dongfeng Nissan Passenger Vehicle Company (DFL-PV) is a business unit of Dongfeng Motor Co., Ltd. (DFL),Nissan's joint venture with Dongfeng Motor Group Co., Ltd. DFL-PV is engaged in research and development operations, manufacturing and distribution of passenger vehicles.
The brand name Venucia is derived from the ancient Roman"Venus."The five stars of the brand logo represent the company's five brand promises-respect customers,create value, do the best,achieve world-class quality and seek the dream.