BEIJING, China (May 15, 2014) –Nissan has won the "Best Creative Booth Award" at Auto China 2014,the second year in a row the company has taken the top prize at Asias largest motor show with its global motor show booth design.
Nissan's brought its global motor show booth design to the show, which this year was held in Beijing.The distinctive threelayer theater design engages guests' senses of sight, sound, touch and smell.Nissan scents the air at its motor show booths with a fragrance inspired by green tea.
The interactive display on the Innovation Wall allowed visitors to learn about Nissas innovations, such as the Smart Rear View Mirror (SRVM) technology. More than 20 vehicles were on display on the Nissan booth,including the Nissan Autonomous Drive car, which made its China debut. Such innovations are part of Nissans Zero Fatality vision to realize an automotive society which is safe for all drivers, passengers,pedestrians and others who share the road.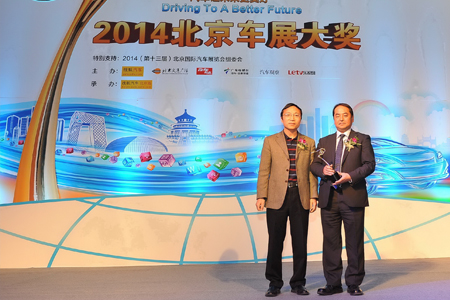 Mitsuhide Nakao, vice president of Nissan (China) Investment Co., Ltd. (right) at the
award presentation ceremony.
"We are honored that Nissan received this much-respected accolade from Auto China again,"said Mitsuhide Nakao, vice president of Nissan (China) Investment Co., Ltd. "Auto China is the largest auto show in Asia,thus the perfect venue to showcase our current and future products and technologies. To us,this recognition means that we successfully conveyed the innovation and excitement that our brand offers to our Chinese customers.
"Nissan attracted more than 900 Chinese and international journalists to the Nissan booth on press day.During the exhibition period, about 850,000 visitors visited the Nissan booth. Furthermore, nearly 700 vehicles were sold at the show, a 75% increase from Auto China 2012.
About Nissan Motor Co., Ltd.
Nissan Motor Co., Ltd., Japan's second-largest automotive company, is headquartered in Yokohama, Japan, and is part of the Renault-Nissan Alliance. Operating with approximately 244,500 employees globally, Nissan sold almost 5.2 million vehicles and generated revenue of 10.5 trillion yen (USD 105 billion) in fiscal 2013.
Nissan delivers a comprehensive range of more than 60 models under the Nissan and Infiniti brands. In 2010, the company introduced the Nissan LEAF, and continues to lead in zero-emission mobility. LEAF, the first mass-market,pure-electric vehicle launched globally, is now the best-selling EV in historywith almost 50% share of the zero-emission vehicle segment.
For more information on our products, services and commitment to sustainable mobility, visit our website
at http://www.nissan-global.com/EN